Chery Creek Rafting
| | |
| --- | --- |
| Difficulty: | Class V - V+ |
| Length: | 8.6 miles |
| Flows: | 1000 cfs - 2000 cfs |
| Gradient: | 105 ft/mi |
| Put-in: | Holm Powerhouse |
| Take-out: | Merals Pool |
The Upper Tuolumne, also referred to as Cherry Creek, is probably the most challenging and exciting rafting trip in the United States. It is without a doubt the most difficult commercially run river in the country. The "creek" is know for big drops between granite boulders and non-stop rapids. It is the measuring stick for other Class V runs as you often hear "How does it compare to Cherry Creek?"
The River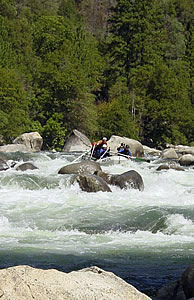 The run starts on Cherry Creek just below Holm Powerhouse and you will run several rocky warm-up rapids before meeting the Main Tuolumne. In the summer only a trickle of water comes down the Tuolumne, so even though you are rafting on the Tuolumne River, the water comes from Cherry Creek. Water in the Tuolumne watershed is diverted from Hetch Hetchy Reservoir in Yosemite around the Tuolumne River canyon to San Francisco and the South Bay.
Just below the confluence of the Tuolumne River and Cherry Creek is a great Class IV rapid. In the first few miles, you will run the Class V rapids Guillotine, Corkscrew, and Jawbone. After a big pool, you'll encounter Mushroom which is a huge Class V rapid and definitely deserves a scout for first-timers. Directly below Mushroom is Toadstool, another big Class V rapid.
There are several more good rapids that lead up to the Miracle Mile, which is a series of class IV and V rapids that make up the steepest part of the Upper Tuolumne. These rapids are Unknown Soldier, Ugly Stump, Blind Faith, Sky King, Eulogy, and Coffin.
Past the Miracle Mile there are still many rapids including the Class V drop Lewis's Leap. This is a technical rapid with a great eight foot drop half way down known as "The Leap." Lewis's Leap is followed by the Class VI rapids Flat Rock Falls and Lumsden Falls which are portaged or lined by all but the bravest of rafters.
Below Lumsden Falls are several miles of Class IV rapids including Horseshoe Falls which is a fun 10 foot drop at a sixty degree angle. Most rafting groups will take out below here at Meral's Pool since it is the easiest place to carry a raft to the road after a long day of Class V.
Check out Whitewater Guidebook's Cherry Creek description for more photos and a mile by mile guide.
Directions
Get yourself on to Highway 99 and head towards Manteca. In Manteca go East on Highway 120 through Oakdale. Highway 120 takes some unusual turns on its course, so pay close attention.
To Meral's Pool (take-out): Go six miles past the town of Groveland to the La Casa Loma River store on the left across from a large meadow. Take a left on Ferretti Road and visit the La Casa Loma River store for a Latte and last minute river gear.
When you're ready to go, get back on Ferretti Road and drive about two miles until you see a "Tuolumne River" sign on the right. Take a right down the unpaved road for six miles until you're at the river. This is Meral's Pool. Leave a car here.
To Holm Powerhouse (put-in): Get back on highway 120 and head towards Yosemite. You'll cross a bridge across the South Fork of the Tuolumne. Take a left just after this bridge on to Cherry Oil Road. If you follow (and you should) the signs to Early Intake, you will meet the Tuolumne River. Drive over the Tuolumne and keep going up a hill and back down. After a couple miles you'll see a sign on the left for Holm Powerhouse. Take this road down to a turn out next to Cherry Creek. This is the put-in.
If you are a private boater, you should call Tuolumne River shuttles at (209) 962-4662 for a shuttle to make your experience more enjoyable.
Outfitters

All-Outdoors
Sierra Mac
Disclaimer: River descriptions and classifications may change due to natural events that may create new hazards or flows. C-W-R advises that any paddler that uses this site be additionally informed by seeking out local news and updates for changes on this river.