Rafting California's Salmon River
| | |
| --- | --- |
| Difficulty: | Class V |
| Length: | 10.2 miles |
| Flows: | 1000 cfs - 4000 cfs |
| Gradient: | 54 ft/mi |
| Put-in: | Nordheimer Creek |
| Take-out: | Wooley Creek |
| Season: | March - June |
The Cal Salmon River is the next step up for rafters that have done the North Fork of the American or the Main Tuolumne and want something more difficult. The Cal Salmon has many Class IV rapids and includes three challenging Class V rapids. The water is clear and the beauty of the bedrock canyon is stunning. Additionally, this run is a long drive from California's population centers so it is rarely crowded.
This awesome river is nicknamed the 'Cal Salmon' in boating circles to distinguish it from the easier (and more popular) Salmon River in Idaho. There is boatable whitewater on the Cal Salmon above Nordheimer Creek on the main river as well as on the North and South Forks of the Salmon. There is also a great run below Wooley Creek that runs into the Klamath River and its classic big water Class IV rapid Big Ike. Multiple river access points allow the intrepid rafter to paddle any type of rapid that he or she desires. The most popular run is the one from Nordheimer Creek to Wooley Creek described here.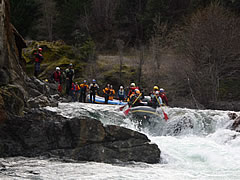 Below put-in at Nordheimer Campground are some easy warm up rapids that will hopefully prepare you for the Class IV Bloomer Falls. This used to be a dangerous Class V rapid until the Forest Service cleared the channel with dynamite. This made it a Class II rapid until it filled in with sediment and is now an intimidating Class IV drop. Bloomer Falls is quickly followed by the Class IV rapids The Maze, Lewis Creek Falls, and the Class IV+ Airplane Turn.
The action eases up for a while in preparation for the Class V rapid Cascade which has three distinct challenging lines for a raft. Cascade is soon followed by the Class IV+ rapids Achilles Heel and Whirling Dervish as well as many more Class III and IV rapids.
The juice of the trip are the Class V rapids Last Chance and Freight Train which occur around mile six. Last Chance is a straightforward rapid that leads into a meaty boat flipping hole. The "boat-flipping-hole" is particularly important here since Last Chance is immediately followed by the Class V rapid Freight Train which would make a horrible swim. Freight Train is a long, steep, fast, and powerful rapid that ends in a narrow chute. This is one of those rapids that you will never forget whether you have a perfect run, or swim it from top to bottom.
Below Freight Train is a Class IV+ rapid (and river access) at Butler Creek. For the next few miles the action eases up with the occasional Class III and IV rapid. One rapid of note is Gaping Maw, a long and complex rapid with big holes that is definitely worth scouting. Many trips that have flawlessly run the Class V rapids above have had problems with "the Maw."
The take-out is at a bridge which crosses the river just past the confluence with Wooley Creek. The river is mostly class II below Wooley Creek.
Check out the Whitewater Guidebook Cal Salmon descripton for more photos and a mile by mile guide.
Directions
To Nordheimer Creek (put-in): There are many options for reaching the Cal Salmon depending on where you're coming from. Most people that raft the Cal Salmon come from Sacramento or the San Francisco Bay area and will start by driving north on Interstate 5 to Redding.
From Redding take Highway 299 west through the wonderful hamlet of Weaverville and along the Trinity River. Once you reach the town of Willow Creek, hang a right on Highway 96 (north). You'll follow the Trinity River for a while, and at Weitchpec you start traveling up the Klamath River. Once you pass Orleans, you should start paying attention for a bridge that crosses the Salmon River. Just past this bridge at Somes Bar, hang a right on Salmon River Road. There are many river access points along the Cal Salmon river with plentiful parking. The normal put-in for this run is at Nordheimer Creek Campground.
Outfitters
All-Outdoors
Bigfoot Rafting
OARS, Inc.
Outdoor Adventures, UC Davis
Redwoods & Rivers
River Dancers
Tributary Whitewater Tours
Disclaimer: River descriptions and classifications may change due to natural events that may create new hazards or flows. C-W-R advises that any paddler that uses this site be additionally informed by seeking out local news and updates for changes on this river.