California Rafting Outfitters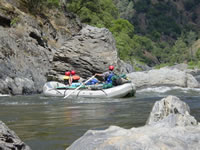 There are an amazing number of rafting outfitters in the state of California. Most are "mom and pop" companies that provide personal service and smaller sized trips. Some outfitters are a large corporations focused on larger sized trips that run many different rivers. Each river company also hires guides that have varied style and personality.
The outfitters provide the river permits, insurance, equipment, trained guides, and shuttles. Most are in the rafting business because they love river rafting and running trips.
Action Whitewater Adventures (AWA)
Adventure Connection
All-Outdoors
American River Touring Association (ARTA)
American Whitewater Expeditions
Environmental Travelling Companions (ETC)
Kern River Tours
Mariah Wilderness Expeditions
O.A.R.S. Inc.
Outdoor Adventures, UC Davis
Outdoors Unlimited, UC San Francisco
Sierra South Mountain Sports
Tributary Whitewater Tours
University of Nevada, Reno
Whitewater Connection
Whitewater Excitement
Whitewater Voyages
Wilderness Adventures
Disclaimer: River descriptions and classifications may change due to natural events that may create new hazards or flows. C-W-R advises that any paddler that uses this site be additionally informed by seeking out local news and updates for changes on this river.