Whitewater Rafting in California
California is the best place in the world for whitewater rafting due to its year around season and highly accessible rivers. The Northern Coast ranges provide rainy season rafting runs from November through May while the Sierra Nevada provides reliable flows from April through September. The rivers of the Sierra Nevada flow naturally until the end of June. During the summmer, a select few of California's 1400 dams provide water for whitewater rafting.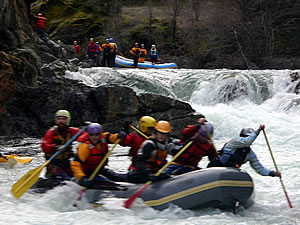 The most popular river in California (and the country) is the South Fork of the American which is fun class III+ run aided by the Chili Bar dam. Other summer runs aided by dams include the Tuolumne River, Cherry Creek, Lower Kern River, Trinity River, Stanislaus River, and Klamath River.
The best time to raft in California is the spring when the flows are up and the wildflowers are in abundance. It is not uncommon to see carpets of California Poppies and Lupen cover the walls of the river canyons. Commercial rafting companies run spectacular spring trips on the Cal Salmon, North Fork of the American, Scott, Forks of the Kern, Merced, North Fork of the Stanislaus, Kings, and the North Fork of the Yuba.
Private boaters find rafting trips on most of the rivers in the state. Some require private permits in order to navigate the river without an outfitter. They commonly run the rivers listed above as well as the North Fork Feather, South Fork Yuba, Giant Gap, Deer Creek, Upper Kings, North Fork Mokulumne, South Fork Eel, Trinity, and Smith.
This site is intended as a resource for Commercial and Private Rafters in California. Our goal is to provide river information, stories, discussion, gear, and other resources specifically for rafters.
Disclaimer: River descriptions and classifications may change due to natural events that may create new hazards or flows. C-W-R advises that any paddler that uses this site be additionally informed by seeking out local news and updates for changes on this river.